UNLIKE THE CRISIS Shearman faced when buying her truck, Avia Eek, 56, makes her living driving one. As she gets in her big green tractor to drive along the field with her husband and son to harvest carrots on a late afternoon in November, she recalls the struggles and challenges she faced to be acknowledged as a women farmer and to drive the machine she loves. Eek married into a third-generation farmer family at the Eek Farms in Holland Marsh, Newmarket, Ontario. Her husband's great uncle was one of the first settlers there in 1934, she says.
Eek, raised by a single mom, describes herself as a feminist. "I was raised by a woman who was not relying on a man to do stuff for her. So, I learned at a young age that, as a woman, it doesn't matter to you, there's things that have to be done, you have to do them," she says. But she still had traditional views of getting married and having children. Eek believes this was how women of her generation were raised. "You weren't raised to become a wizard at math or science and go off to be some great big board room director or CEO of a company," she says. She met her husband in 1984 and married in 1988. "We both worked off the farm. We started a family five years later and then I quit my job as a legal secretary and assumed my responsibilities on the farm as a partner to my husband." Her journey, however, did not end there, as she kept striving to be equal as a woman and a farmer on the job.
On the farm she assumed jobs women would do, for example working on the back of the combine or grading out the vegetables as they come out of the field. One time, she says, they needed a tractor driver during harvest who would be skilled enough to drive beside the combine. Eek kept insisting to her husband that she could do the job. However, it took a number of years before they finally trusted her. "It was so funny because a couple of years ago, the friend that we work with, he said, 'There's nobody else I'd rather have to drive beside my combine' because I'm a good tractor driver," she recalls. Although this is not a typical "woman's work," Eek is happy to have made her mark. "It's a fairly male-dominated business," she says. Through her work with other farmers and meetings, Eek went further into politics. "I am the first woman to ever be elected as the councilor for this ward." As a Ward 6 Councillor for Township of King, she continues to "advocate for agriculture."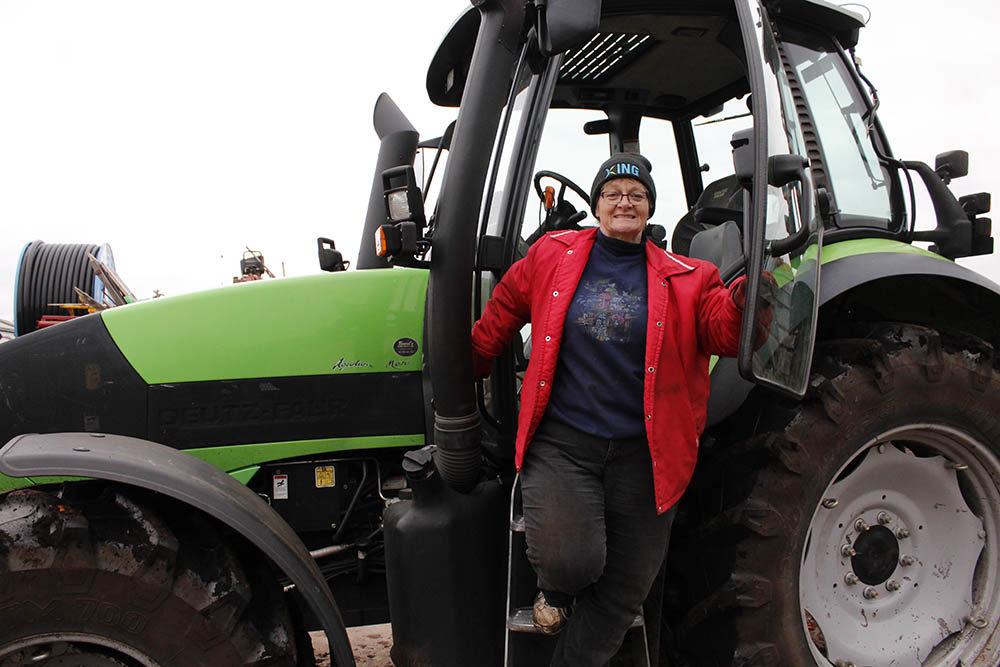 Although Eek says that farming was not her passion, and she has "married into it," after 35 years she fell in love. The work is often challenging and many people expect food to be cheap. "We're constantly staying on top of whatever new best farm practices are out there and implementing them on our farms," she says. They currently have environmentally friendly methods of stewardship of the land and protect waterways by installing an irrigation system. "We're always moving forward and looking for new ways to make our farm operations more sustainable, because sustainability, as we all know, is about future generations," she says.
"I can tell you as a farmer, the climate is shifting," says Eek. She describes a delay of harvest with onions, one of the crops they grow. She says a while back harvest was done in November, whereas now it starts in early December. "There is a definite climate shift and we have more intense storms," she says. Eek calls mother nature a "fickle business partner" but with Holland Marsh and its rich soil, it is a bonus. When the land is dry, Eek says, they can also access water from Lake Simcoe and irrigate their fields. Likewise, she says, if they have a flooding incident or Lake Simcoe is down low, they can push the water out with their pumps and send it back.
With the changing climate there are risks and benefits, says Peter Taylor, a professor in the department of earth and space engineering at York University. Increasing temperatures mean a longer growing season, which is beneficial, but this can also increase the risk of crop disease, he says. The water quality in rivers have changed a bit since 1970s, says Christopher Wellen, professor of hydrology at Ryerson University. With that agriculture has intensified. The amount of yield has gone up considerably and farmers experienced the increase in nutrient applications, he says. Farmers have adopted different types of conservation methods: for example, less intensified tillage, says Wellen.
The Ontario Federation of Agriculture (OFA) writes that climate change is a global challenge that impacts Ontario farmers and has been working with the provincial government to recognize its current and pending impact on farm businesses and provide research to help farmers adapt. To further these changes, OFA believes in carbon tax and beneficial management practices (BMPs), adaptation and mitigation. The BMP are agricultural practices that promote sustainable land stewardship and maintain or increase profitability of farms, write researchers Haben Asgedom and Ermias Kebreab in Agronomy for Sustainable Development. The practices are from both crop and animal production systems and provide opportunities in reducing, removing, and or avoiding greenhouse gases (GHG) emissions, they write. Although mother nature 'PMSes' as Eek often describes, any weather impacts they have on the farm, they can mitigate.