Long time, no speak, everyone.
I trust that you're working hard on your MRPs with the December 13 deadline in your sights. As per the course outline, you will be linking to a Google Doc, audio or video file, or a Google Drive Folder on your individual blogs before 5 pm on Friday, Dec. 13.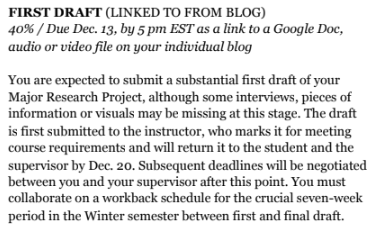 If your project requires you to do the bulk of your reporting and travel over the winter break and you are unable to submit a cohesive first draft of your MRP by the Dec. 13 deadline, please make sure you're in touch with your supervisor before Friday, Dec. 6. They will contact me to discuss possible alternatives.
Of course, in the meantime, please feel free to send me an email if you have any questions or concerns about the specifics of your project.