If you haven't read the course essentials post, which contains a link to the course outline as well as important course and time management information, please do so before reading this post.
This week's materials:
Reading Screens: What Eye Tracking Tells Us about the Writing in Digital Longform Journalism (Marino, 2016)
Multimedia Storytelling in Journalism: Exploring Narrative Techniques in Snow Fall (van Krieken, 2018)
Picking the Right Media for the Story (Grabowicz, 2015)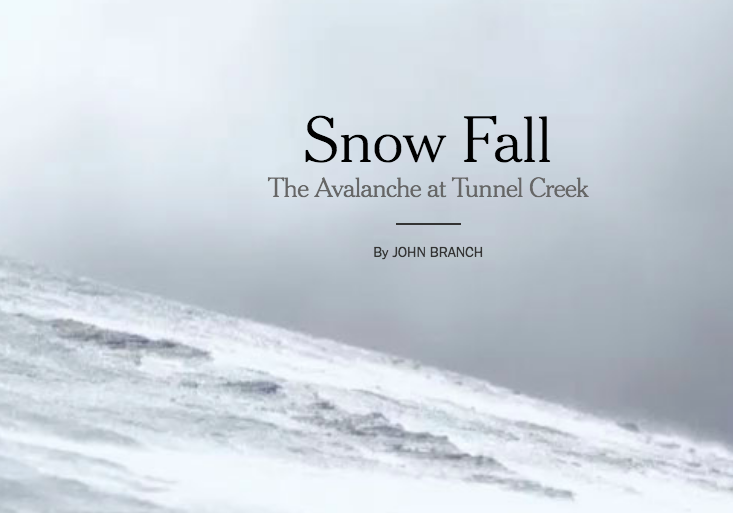 Whether audiences are experiencing them on their desktops, tablets or smartphones, digital longform features integrated with multimedia elements have become the de facto journalistic standard for text-based narrative stories. This week's readings (Marino and van Krieken) step back from reporting and production to take scholarly approaches to analyze how this work is being created and consumed. The New York Times' 2012 project Snow Fall, which you were assigned to read and view last week, was seen by many as the beginning of a new era in digital longform. Both Marino and van Krieken find that while the feature offered an avalanche (sorry not sorry) of interactive features, its text-driven narrative was the engine driving the story.

These insights will be instructive as you continue to develop your MRP story and even if you end up choosing one platform for the project, you will have a better understanding of how narrative journalism is experienced online. A reminder that for your first assignment (due on June 24, see last week's blog post and the course outline for details), you are expected to address at least three concepts related to digital features raised in both of these readings.
The third reading is a guide to help you make preliminary decisions about the multimedia elements you might produce for your MRP. Several students are interested in producing radio or video documentaries or podcasts and while you may not have multimedia elements in your final story, at this early stage, it's important to explore other narrative forms and to be able to justify your decision to choose a particular one.

Reading Screens: What Eye Tracking Tells Us about the Writing in Digital Longform Journalism
In her eye-tracking study of fifteen millennial readers, Marino explores how audiences interact with digital elements, including text and images, on the screen. Eye-tracking research is an important area of journalism studies and has evolved from studying how people read a printed page to understanding how they interact with words, images, video and other interactive elements on websites and mobile devices. Her paper focuses on what we learned about what kind of writing millennials read when they look at digital longform journalism, as well as how they regarded the writing in the projects chosen for the study.
Multimedia Storytelling in Journalism: Exploring Narrative Techniques in Snow Fall
Van Krieken takes a closer look at how journalists take traditionally text-based techniques including scene reconstructions and point-of-view writing and translate them into digital multimedia elements. Using the New York Times' Snow Fall, this study examines how the distinctive features of text, image, video, audio and graphic animations help immerse the audience in an otherwise distant news event, not connected to their lives. This paper looks at how the other elements in this feature complement and enhance the storytelling.
Picking the Right Media for the Story
This tutorial clearly helps compare the strengths and weaknesses of different types of media and how to match them up with different kinds of stories. The piece takes you through the different types of media – video, photos, audio, graphics/maps and text – and the kinds of stories or characteristics of stories that lend themselves to the different kinds of media.
_____________________________
Our first Google Hangout is scheduled for Monday, June 24 from 8-9 pm EST. You will receive a Google invite for the video chat shortly and can click on the link during that time to ask questions or discuss any issues related to your MRP. If for some reason you don't receive the invite, the link is meet.google.com/prw-ugar-fob. Joining the Google Hangout is not mandatory and of course, if you have any questions, please drop me an email at asmaa.malik@ryerson.ca.

Have a great week and enjoy the Raptors parade!
Asmaa